MIP's technology is based on cutting-edge science driven by the goal of developing bioidentic therapeutics to cure diseases. Our propriatery technology platefrom allow us to transform Human cell secretome into drug products, perfectly balanced set of human molecules able to restore dysregulated biological processes. Our lead candidate RESOLVIX is composed of a set of molecules produced by regenerative human macrophages. RESOLVIX can thus tackle inflammatory and degenerative diseases.
Technology
RESOLVIX our first platform-issued candidate, is using the healing power of specialized macrophages
Resolve. Heal. Regenerate.
Macrophages are specialized immune cells participating in multiple roles from host defence to inflammation resolution. A special type of macrophages, the so called pro-resolution type macrophages, are instrumental to coordinate the inflammation resolution-phase that actively ends inflammation. Pro-resolution type macrophages switch off inflammation, engulf and digest damaged cells and debris, recruit stem cells and initiate healing to restore tissue function. Their functionality is becoming impaired with age and in chronic inflammatory diseases.
At MIP we have discovered that using the secretome of healthy resolution-phase macrophages, we can restore impaired macrophage functions and give them their power back to resolve inflammation, heal and regenerate.
Resolution & Diseases
Resolution molecules and their functionality decline with age and in an increasing number of pathologies marked by chronic inflammation.
Resolution macrophage secretome
Resolution-phase macrophages are instrumental to coordinate the inflammation resolution phase through the secretion of bioactive molecules. These can be captured and transformed into a drug product.
Secretome-based drugs
RESOLVIX is an iv injectable solution of highly biocompatible human molecules in a natural balanced composition working synergistically to actively resolve inflammation, heal and regenerate tissue, preserving immune function.
Curative potential in many diseases
Autoimmune Diseases (like Rheumatoid Arthritis, Crohn's Disease, Multiple Sclerosis or Systemic sclerosis), Cardiovascular and neurodegenerative disorders, as well as fibrosing organ diseases.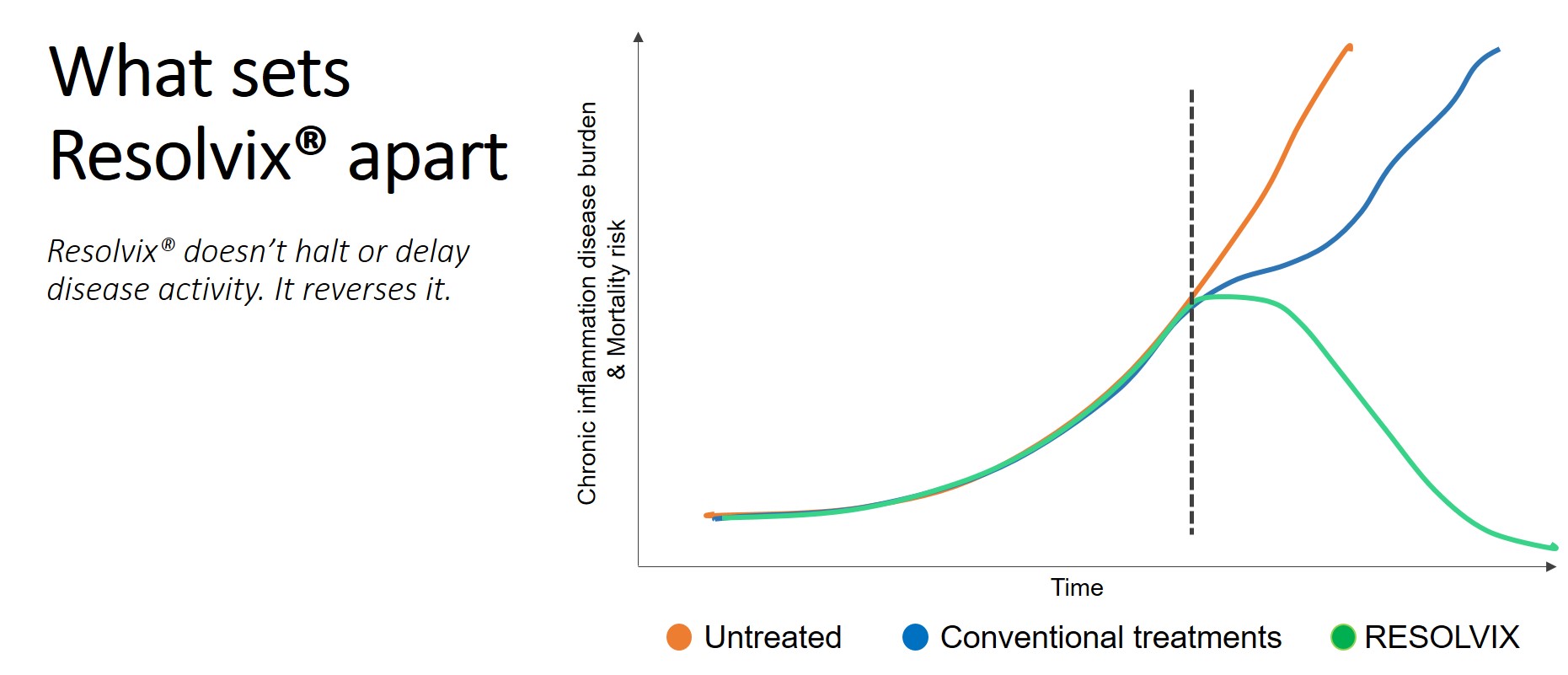 Pre-Clinical Safety and Efficacy
Third-party preclinical safety studies have confirmed Resolvix to be safe and well tolerated
Efficacy has been confirmed in prominent pre-clinical models of inflammatory diseases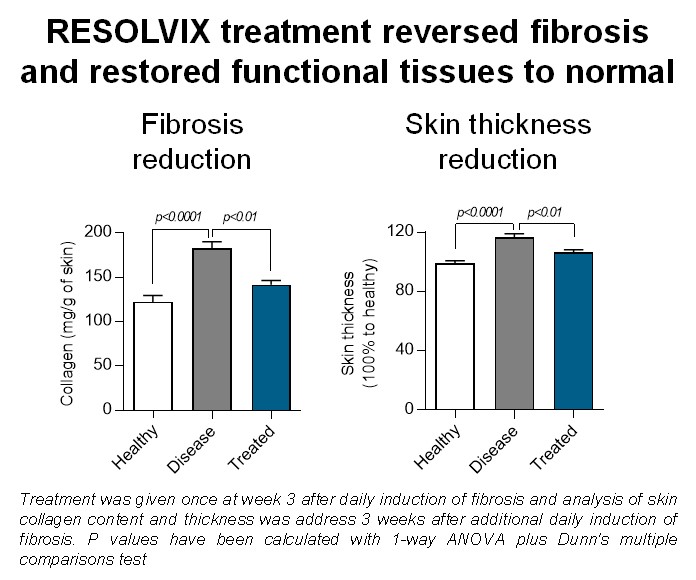 RESOLVIX exerts multiple modes of action (MoAs) all working in line with known mechanisms of inflammation resolution and post-resolution phases which are :
Stop inflammatory immune cell infiltration
Decrease of inflammatory molecules
Reduced T-cell activation
Immunomodulation
Increased efferocytosis and clearance of debris
Reduced fibrosis
Stem cell mobilization
Tissue healing and regeneration
Synergistically promote healing, regeneration and return to normal tissue function
Pipeline
Improving human health span of patients with Systemic Sclerosis